By Elece Smith
It doesn't matter how many concerts you go to as an adult — there's nothing like the raw power of a concert attended mostly by middle schoolers. Pre-Friday night sleepover energy transformed the 9:30 Club from a concrete hideaway for punk music and up-and-comers into an emo 12-year-old's grunge wonderland.
That was the backdrop for Grace VanderWaal as she played the second to last stop of her Ur So Beautiful Tour in Washington, D.C. on Friday. It's been a whirlwind three years since she won the 11th season of America's Got Talent in 2016 at the age of 12. Since then, she was named Forbes' youngest member of their 30 Under 30 Music List. So, it's understandable that many of her fans are just as young.
[Read more: Review: Dominic Fike is a genre-bending musician everyone should see on stage]
I myself am familiar with the now-15-year-old's work. I've seen a couple of her ukulele covers, have a song or two of hers in my playlists and follow her on Twitter. But with her fanbase in mind, I had neatly filed her away with other viral Gen Z sensations like Lil Nas X, Bhad Bhabie and, of course, Mason "Walmart Yodel Kid" Ramsey. Everything about her onstage performance, however, proved my assumptions wrong.
Even with the weight of her quickly acquired fame, Grace's onstage presence was equal parts joyful teenage girl and seasoned young artist. She came running from backstage and barely stopped moving, pausing only to let us know her first song was the lead single off her upcoming album, Ur So Beautiful, and let us know that, even though she had a cold, she would still put on a great show.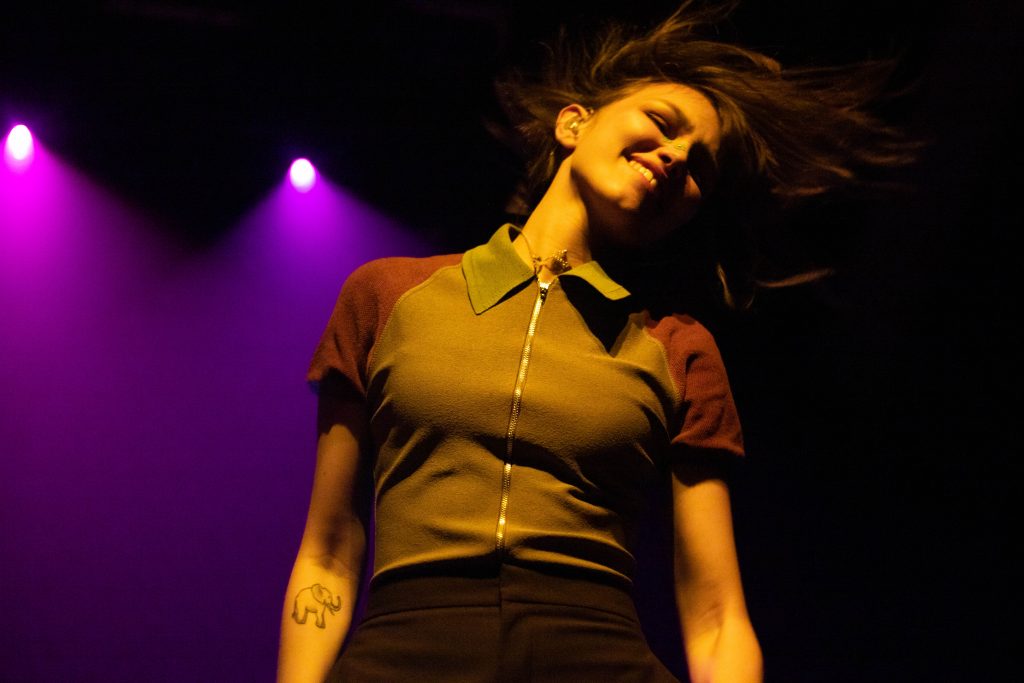 Despite her illness, Grace's voice was incredible — her attitude and her connection to the crowd felt genuine. When a fan near the front passed her a beanie with two large pom-poms on the top midway through her set, she pulled it on and danced with it for her next three songs.
Halfway through, Grace stopped singing and declared she had a story to tell us: "Ever since I got this crystal," she told the audience, showing us the energy crystal necklace she'd been hiding beneath the collar of her shirt, "I've just been feeling so happy and energetic! I feel, like, just rebirthed!"
[Read more: Review: Peter Frampton brought the magic of '70s rock to The Anthem stage]
What Grace would call "crystal energy" became the best way to succinctly describe how it felt to be a part of her audience. It wasn't that Grace had grown out of her signature ukulele and simple, lyrics; she had grown with them. Her energy flowed beautifully through a setlist that included unreleased songs from her new album interspersed with older ones, including her first single, "I Don't Know My Name," and "Waste My Time," which she released this past August. She also performed a cover of "See You Again" by Tyler, the Creator and DMV native Kali Uchis.
Despite her age — and that of her fans — there was nothing childish about Grace's performance. Her setlist was carefully curated and she was professional and attentive with as many of her fans as she could reach. Grace VanderWaal is not just some musician riding the high of viral memedom; she's a young artist with boundless vision and incredible enthusiasm and I really can't wait to see what she does next.