Jake Funk hadn't been overly worried about his knee. He knew with enough hard work, dedication and time, he'd get his speed back and have the confidence to make sudden lateral movements once more. 
What worried Funk, though, was which field he might make that return on. 
While he recovered following a December 2018 surgery to repair a torn ACL, Maryland football had hired Mike Locksley as its new head coach. As Funk toiled away at rehab in the coming months, his teammates worked under the watchful eye of their new coaching staff.
The running back didn't want to be forgotten in a room already filled to the brim with ball-carrying talent.
"The first thing he was concerned about was just not being able to really show that he could be a meaningful contributor," said Josh Funk, his older brother.
And while Jake Funk knew much of the coaching staff already — it was Locksley who pushed to offer Funk a scholarship when he was at Damascus High School — a lot changes in three seasons.
Locksley had called Funk shortly after he became interim head coach at Maryland in 2015, offering the Gaithersburg native a place with the team. But Locksley departed for Alabama after that season, helped the Crimson Tide win a national title in 2017 and earned the Broyles Award as the nation's best assistant coach in 2018.
Now back in College Park, would Locksley recall — and find a place for — the 5-foot-10 runner he was once enamored with?
"Let's be honest, Jake graduated this past spring," Josh Funk said. "If Jake wasn't feeling particularly confident in his ability to come back and be a meaningful contributor for the Terps, Jake could very, very easily be elsewhere."
Instead, a few days after graduation in May, Jake Funk's phone rang. It was Locksley.
"Don't you dare enter the [NCAA transfer] portal on me," Jim Funk, Jake's father, recalled the head coach telling his son. "I've got a role for you."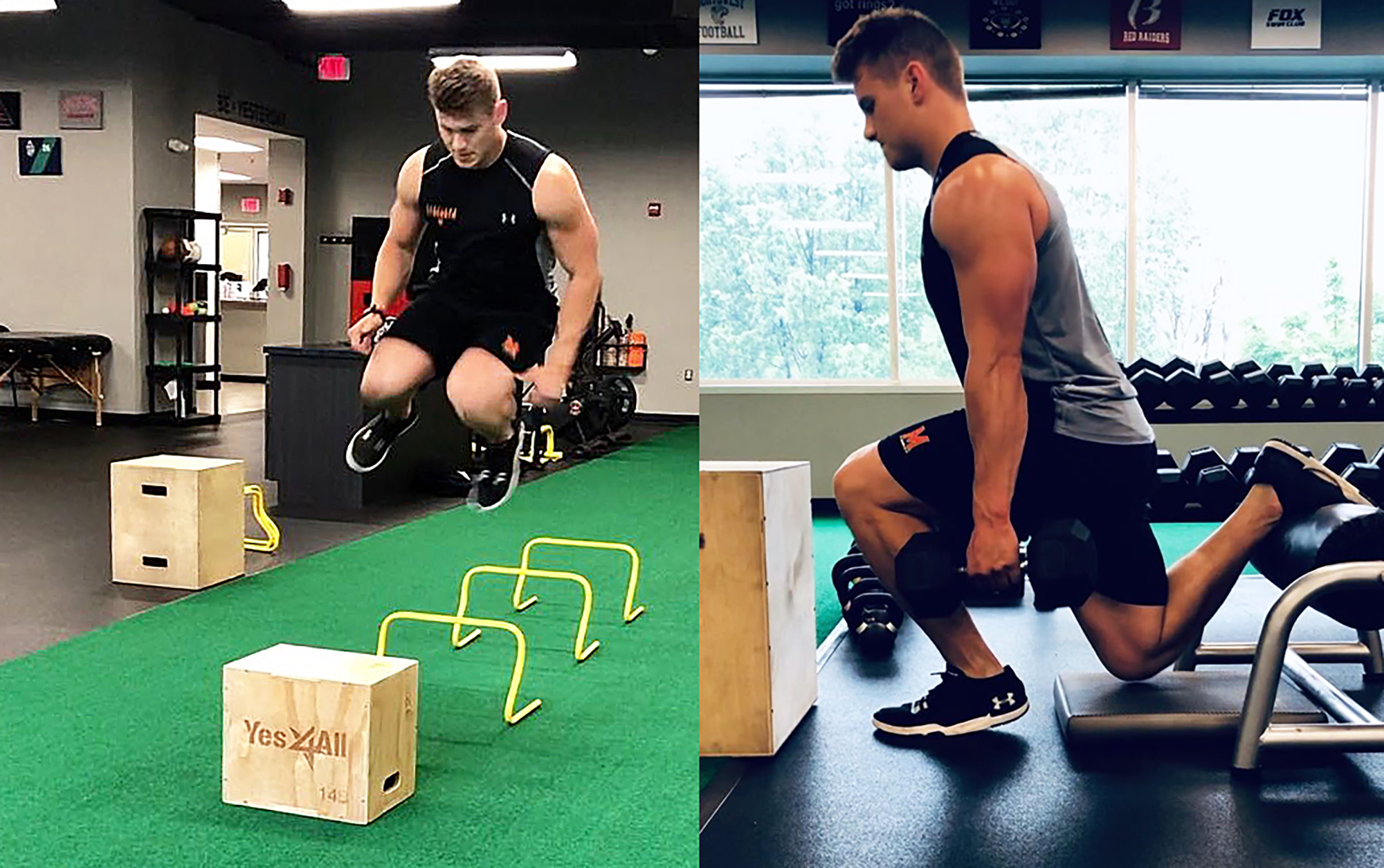 "Happening for a reason"
About eight months before receiving that phone call, Jake Funk's 2018 season was sidetracked with the first of two major injury setbacks. He broke his hand and required surgery, ruling him out for the next eight games.
And one week after returning to game action, Funk would be sidelined yet again. As a lead blocker on a kickoff return against Ohio State, Funk made a cut and felt his knee pop. While he felt some instability as he ran to the sideline, there wasn't much pain involved.
Trainers initially believed Funk had only hyperextended his knee, based on the not-so-severe pain and lack of significant swelling. That lack of pain seems to run in the Funk family, such as when his father tore knee ligaments when he was in high school. 
The lack of inflammation and pain Jim Funk had at the time bamboozled his doctor, but the tests clearly showed MCL damage. Still, he'd go on to play football at Penn State — a comeback his son hoped to emulate. 
Jake Funk had an MRI scheduled the Monday following the game. He entered with hope that his latest injury wouldn't be long-term. The results were off-putting.
"[Jake was] a little knocked off the cart when he found out it was an ACL with meniscus damage," said Jim Funk. "He was a person who never got hurt, so to have two injuries like that in a year, it was challenging for him, I think, initially."
As Funk missed large swaths of time, Maryland tried to keep him engaged on the sideline. He often wore a coach's headset during games and recorded plays. Running back Tayon Fleet-Davis recalls Funk offering tips and feedback, a combination that led the running back room to nickname him "Coach Funk."
But even as Funk contributed in different ways, being off the field grew difficult, looking on as his teammates ground their way to a 5-7 record. It didn't linger long, but doubt crept into Funk's mind, pondering if he'd be able to perform as he once had.
"Everybody who tears their ACL wonders if they'll ever be as good as they were before," Funk said. "There's so many uncertainties with it."
Hard work is no stranger to Funk, a former three-star prospect who had been told throughout his career that a move to defense, perhaps linebacker, would serve him better than carrying on a dream of being a running back in the Big Ten.
That didn't prevent him from joining Maryland as a tailback, posting 281 yards in his first two seasons and featuring as a key special teams player. The ACL injury was an impediment. But it wouldn't derail him.
"We try to find the best in everything," Jim Funk said. "So when he went down twice in a season, we said, 'This is happening for a reason.'"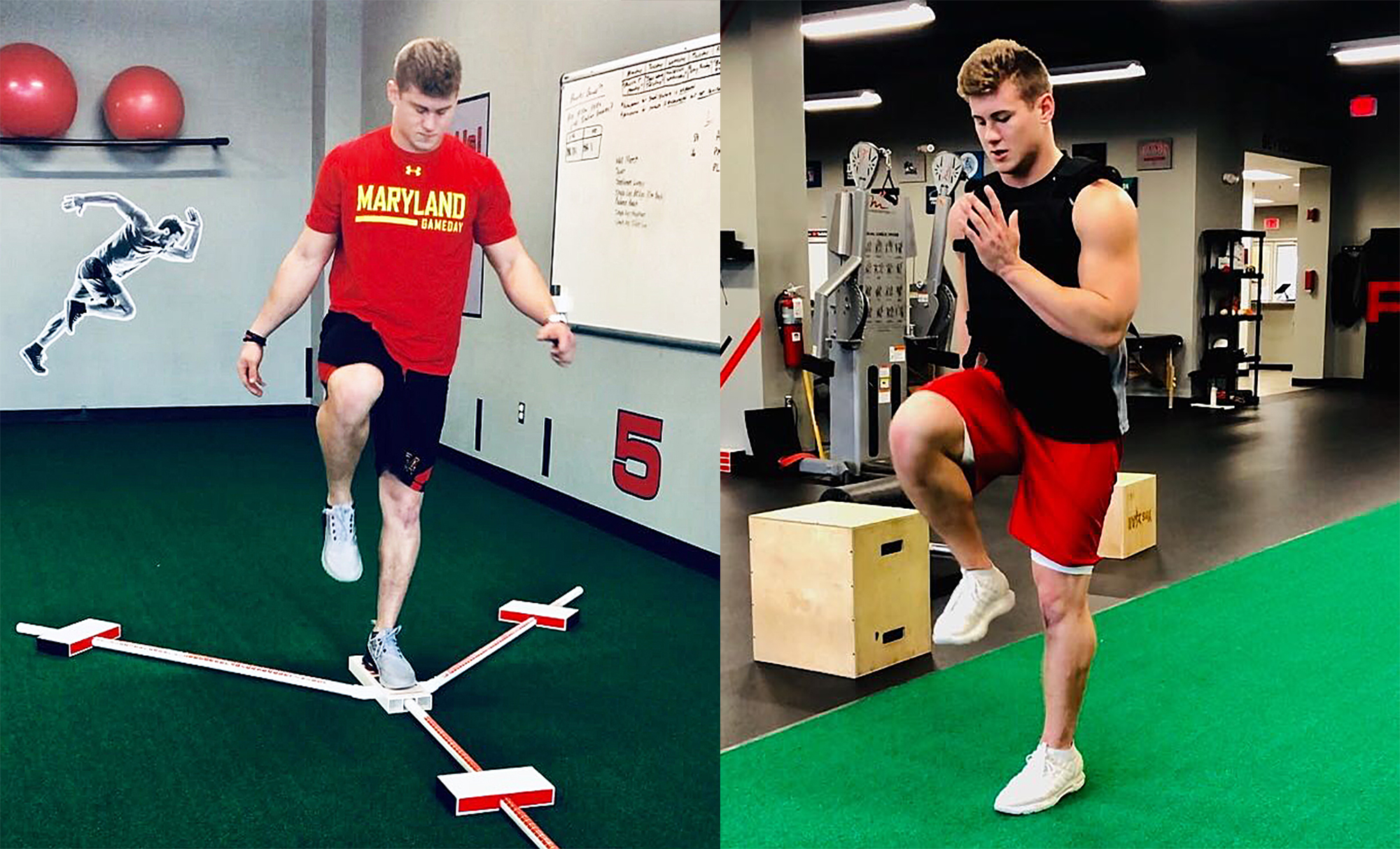 "Better than before"
In the months following Jake Funk's surgery, his father's phone would buzz with regularity, each message signaling the reception of another video showing his son working back to full strength.
There'd be one video of Funk running through a ladder drill. In another, he was running figure eights, or cutting side-to-side, with his brother, Josh, watching closely. 
Josh Funk, a former Ohio State lacrosse player, is the owner of Rehab 2 Perform, a physical therapy operation. He's used to helping athletes recover from injuries — but this was his brother. Josh Funk and Maryland's trainers would help Jake Funk recuperate and gear up for future football. 
There was one stipulation to these videos, though.
"[Jake] would say, 'I'm not sharing this with people. I don't want people to see where I am,'" Jim Funk remembered. "He likes to operate in secrecy, the same way he did when he got injured. He didn't want a lot of attention about him, he just wanted to go back to work."
Shortly after his surgery, Jake Funk's doctor issued the tailback a warning.
"I've heard about you," she told Funk. "I know my biggest issue is going to be holding you back."
But she conveyed the importance of allowing the ligament to fully heal, a process she figured would take about five weeks post-surgery. It was also important, she said, for Funk to listen to his body. If he felt fatigue, he shouldn't push through it.
Once Funk was cleared to begin rehab, however, the halfback wasted little time. He often worked out in two-a-days, starting in College Park before hopping in his truck and driving to meet his brother, where he and his brother did full-body workouts. Josh Funk subscribes to a criteria-based rehab model rather than a timeline-based one, allowing Jake Funk to progress at his own speed if he proved capable of completing the task.
And while the first goal was to return to normal and regain confidence in his knee, Funk focused on doing more than that.
"I knew how motivated he is as an individual," Jim Funk said. "It didn't surprise me when he basically said, 'I'm going to be better than before.'"
"Everything to me"
On the morning of Aug. 31, Fleet-Davis woke up and called out to his roommate.
"Jake!" he yelled. "Let's get in that endzone today, man."
Funk could have been elsewhere, could have transferred for a clearer path to touches in a less-crowded running back room. But, Josh Funk said, it would have taken the coaching staff cutting his younger brother entirely for him to give up hope of returning to Maryland Stadium. 
So hours later, after Fleet-Davis' wake-up call, Funk found the endzone again for his state school. In the midst of a 79-0 blowout against Howard, the redshirt junior took the handoff, weaved his way through blockers and defenders alike and scampered for a 24-yard score — his first touchdown since 2017.
"I felt like I scored," said Fleet-Davis, excited for his teammate.
Later, Funk showed a burst of speed as he nearly broke a long touchdown in the fourth quarter, racing 49 yards. Funk is faster now than he was before the injury, and his brother said he's also hit clean and squat records since his return.
His recovery process from surgery took just six months to be cleared to play once more. And against the Bison in Maryland's season opener, Funk finished with 79 yards on 12 attempts, a welcome return after his injury-filled 2018.
"The last year of my life has been pretty, pretty hectic," Funk said after the matchup. "Today just meant everything to me."
Midway through the game, Funk turned away from the field. He searched the stands for where his family's season tickets are located and found them. He found the brother who helped build back strength in his knee and the father who lives for these moments, watching his son follow his dream.
Then, Jake Funk smiled. He was back.