When Bernard Tanyi arrived at his son Mbi's first football practice, he didn't realize what the fifth-grader was getting himself into.
Bernard, who emigrated from Cameroon to Texas in 1985, expected to see shin guards, a round ball and goals. Instead, there were pads, helmets, uprights and a whole lot of hitting.
"Oh no, Daddy," Mbi said, "this is American football."
Mbi got his dad up to speed, and Bernard let him keep playing. But when Mbi began coming home sore and sporting bruises, his parents again grew uneasy.
"Wow, all this contact," Mbi remembers them saying. "This the type of person you want to be?"
After a conversation with one of Mbi's youth team coaches, Bernard understood there was more to the game than reckless hitting. He saw that his son would be able to use not only his size, but also his motor, to stand out from the other kids on the field.
Tanyi's drive has been a constant throughout his career, both on and off the field. In addition to being a three-year starter in high school, he worked a series of odd jobs to supplement his family's income and help fund his silver Chrysler 300.
After earning a scholarship to play for Maryland football as a defensive lineman, Tanyi overcame two torn labrums in his first two seasons, played under four different head coaches and came together with his teammates after the death of offensive lineman Jordan McNair.
Now, Tanyi is preparing for the NFL Draft. He remains a longshot to be selected, but he will draw on a lifetime of hard work as he attempts to tackle one more challenge: making a professional roster.
"It's going to be a grind," Tanyi said. "[But] if you're used to persevering, working through things and working hard, it doesn't matter what setting you're in. You're always going to prevail."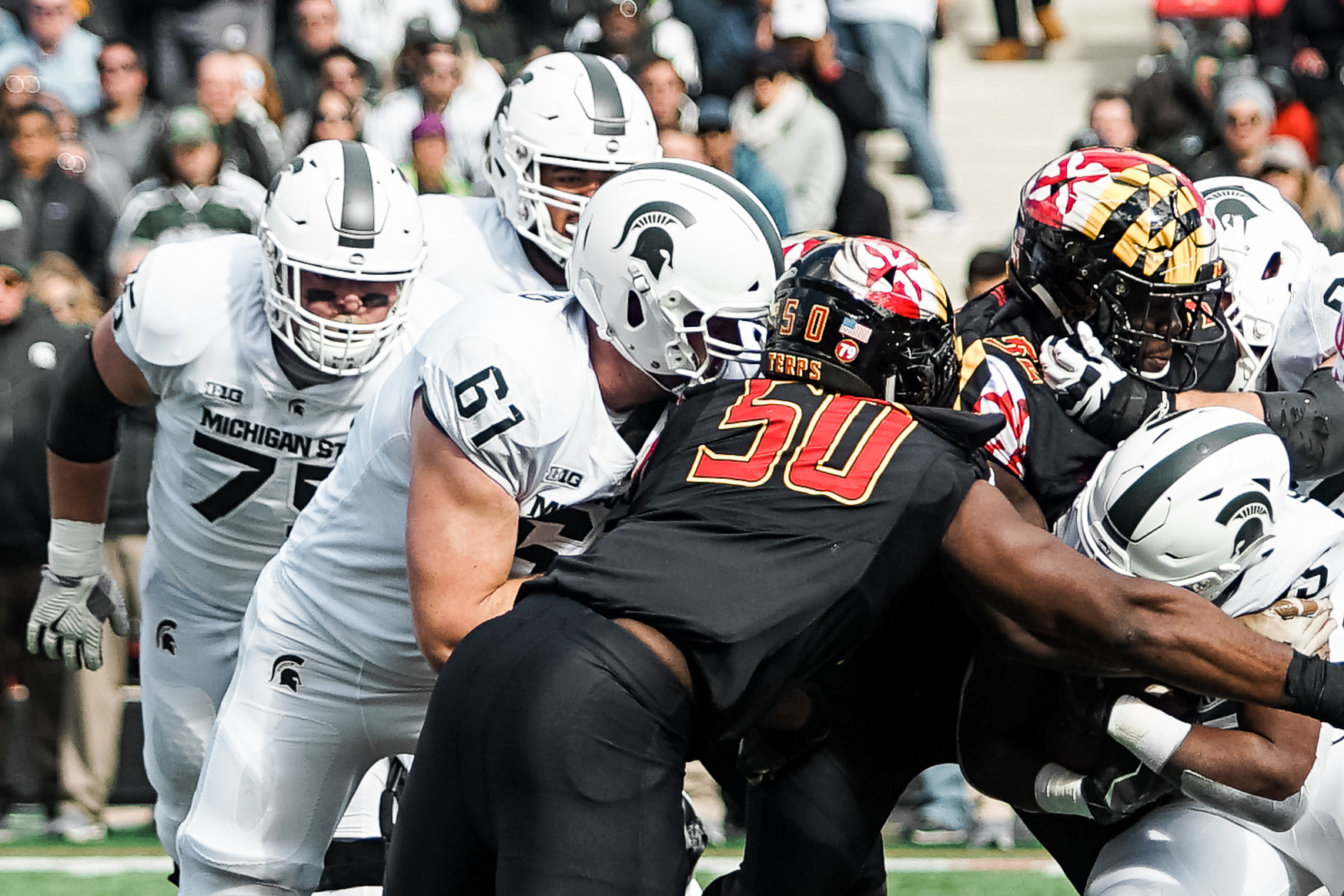 'Still at Burger King'
Each day before his practices at George Bush High School outside Houston, Tanyi would crank out his homework, knowing his time after school would be filled with other responsibilities.
On top of football, basketball and track and field, Tanyi worked part-time throughout high school. Sometimes, it was at Burger King; other times, it was H-E-B, a Texas-based grocery store chain.
As George Bush football coach Allen Aldridge would watch Tanyi put on his work uniform after practice, the same question frequently came to his mind.
"Can you handle this?" Aldridge would ask Tanyi.
"Yeah, Coach," Tanyi would reply. "No problem."
It was the type of reassurance Tanyi was accustomed to giving. When his older sister and younger brother would fight, he'd tell his father, "Let me handle it." When money was tight for the Tanyis, the line was: "I know what I'm going to do."
In addition to his part-time jobs, Tanyi sold snacks to his classmates at school for an extra source of income. When his younger brother needed new clothes for school one year, Tanyi offered to foot the bill.
"That was always his statement: 'I got this,'" Bernard said. "That told me he was aspiring to be great in whatever he does."
Tanyi took great interest in Air Jordans and other high-end sneakers — not for himself, but as another way to earn extra cash. He searched for deals on shoes, buying worn-down pairs for cheap before fixing them up and reselling them for as much as he could.
By the end of his high school career, Tanyi quelled Aldridge's concerns.
During his freshman season, Tanyi spotted Aldridge's Super Bowl ring from his days as a starting middle linebacker for the Denver Broncos. Tanyi was still in diapers when Aldridge's Broncos beat the Green Bay Packers in Super Bowl XXXII.
"That's the epitome of, 'You made it,'" Tanyi said. "When you see something like that, it excites you. It makes you want to play. It makes you want to be great."
Seeing the ring helped inspire Tanyi to use the offseason after his freshman year to the fullest. He worked to take advantage of his natural size, and Aldridge noticed his strength improving in the weight room and was impressed by his work ethic. The training paid dividends, and he made varsity as a sophomore.
"I made that jump," Tanyi said. "I was like, 'This is what hard work can get you.'"
As Tanyi became a force for George Bush, his other responsibilities kept him rooted. He made the All-District First Team as a senior and was named his team's MVP. He received scholarship offers from Washington, Louisiana Tech, Houston and Air Force, in addition to Maryland. And when he wasn't in school or on the field, he still took orders from customers.
That added a perspective Tanyi has maintained in college. After Hurricane Harvey hit his hometown in 2017, Tanyi shipped Maryland football gear to Houston. And as an intern at the National Center for Children and Families in Washington, D.C., he organizes after-school activities for the boys' group home.
"It just taught you to be humble," Tanyi said. "Even when I started getting offers and stuff, I was still at Burger King."
"Especially if you never had a lot, when you get some, you just want to make sure everybody around you who was there when it was all hard … get something, too," he added.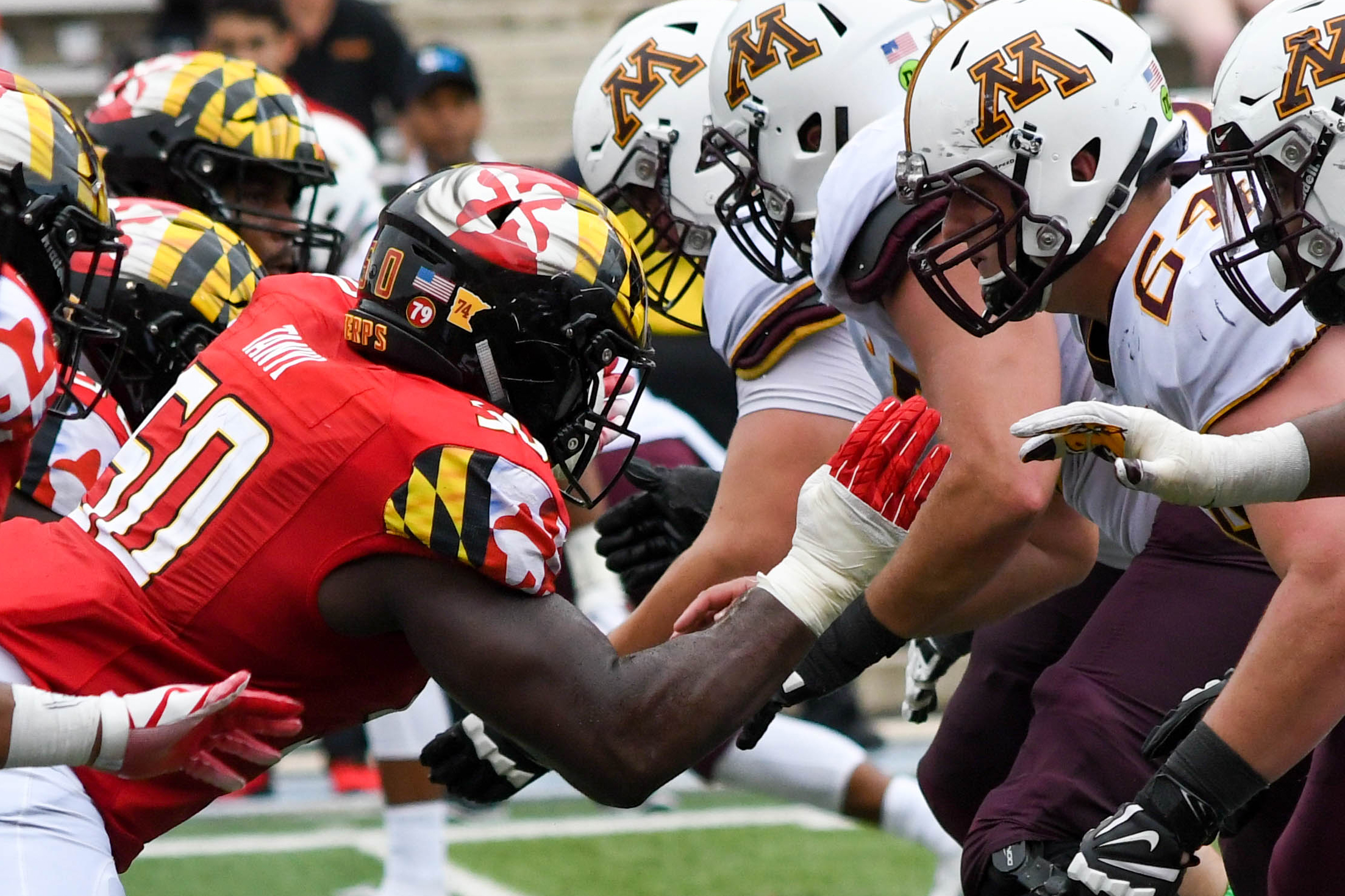 'Painkillers and prayers'
As Tanyi broke through the line of scrimmage late in the third quarter against Minnesota in 2016, running back Shannon Brooks cut away from him. Tanyi, then a sophomore, reached out his right arm into Brooks' path.
But with his left arm being tugged by center Tyler Moore, Tanyi's arm bent back and his right shoulder was driven into the turf.
"It popped all the way out," Tanyi remembered. "I think I tore most of my labrum with it."
It was the second straight year Tanyi had suffered a torn labrum. And it would be the second straight year he played through it.
During his freshman season, he tore his left labrum in practice prior to the team's Sept. 26 matchup against West Virginia, but injuries elsewhere on the defensive line forced him to burn his redshirt. Tanyi didn't want to spend any more time sidelined than he had to.
Both years, he waited until the offseason to have surgery. Each time he played, though, he could feel his shoulder tearing more. The pain made him essentially a one-armed pass rusher, a large part of why he totaled just 13 tackles between his first two seasons.
"Painkillers and prayers," Tanyi said. "Ibuprofen probably helped me a lot."
So, when he was back healthy his junior year, "it was like being reborn as a football player."
The first game of that season was against Texas at Darrell K Royal-Texas Memorial Stadium in Austin, offering Tanyi's family the chance to see their son play college football in person for the first time.
The Terps upset the then-No. 23 Longhorns, 51-41, and Bernard — once concerned with his son's choice in sports — moved to a seat behind the bench to cheer especially loud. Tanyi could hear his encouragement the rest of the game.
"It meant the world," Tanyi said. "Support goes a long way."
Finally healthy, Tanyi made more of an impact on Maryland's defense. He posted 20 tackles and a sack in nine starts as a junior and started all 12 games with 36 tackles as a senior, beginning with four tackles and a sack in another win over Texas at FedEx Field in Landover.
Under interim head coach Matt Canada — Tanyi's fourth leader in four seasons — the on-field results weren't always there in 2018. But as the program appeared to be caving in amid external investigations and mounting pressure following McNair's death, Tanyi carried on.
"He doesn't get down, he just goes to work," Aldridge said. "That's just the kind of kid he is."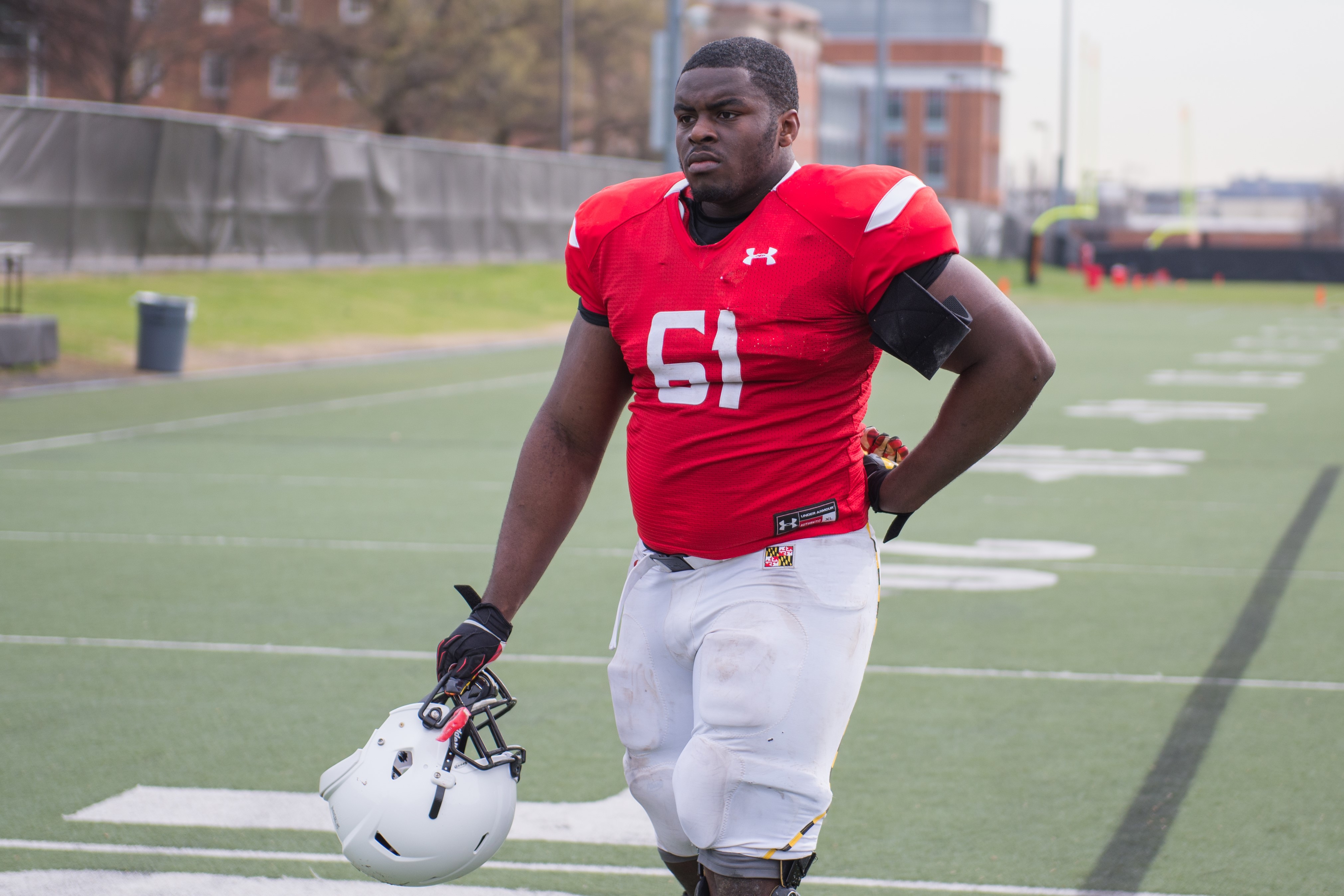 A longshot
Shortly after Tanyi completed drills at Maryland's Pro Day on March 27, a Houston Texans team official approached him. It was a brief talk — Tanyi didn't even catch his name — but the official said he'd contact his agent with details for a workout with his hometown team.
Tanyi ran a 4.93 40-yard dash inside Cole Field House, which would have tied for the eighth-fastest time for a defensive lineman at the NFL Combine. He compiled 30 bench press reps at 225 pounds, which would have tied for the fifth-most at the position.
Like most of the Terps' senior class, Tanyi didn't get an invitation to the league-wide scouting event. For a relatively unheralded recruit who never put up eye-popping numbers in college, being overlooked wasn't particularly surprising.
Still, his performance at the Pro Day earned him a further look from the Texans, and gave him hope he might be able to work his way into an NFL franchise's plans.
"He has to grind every day to make it happen," Aldridge said.
It's an experience Tanyi is familiar with, since he worked side jobs throughout high school and recovered from two torn labrums to become a starter on Maryland's defensive line.
NFL teams may look to shift Tanyi, a 6-foot-2, 283-pound defensive tackle for the Terps, to the outside, allowing him to use his athleticism as an edge rusher rather than requiring him to bulk up further.
Regardless of what happens in the coming months, Tanyi will look back on the fifth-grade version of himself, the one who perplexed his father by joining a neighborhood team and began a journey that he hopes hasn't reached an end.
"I always reminisce about the days when I was dreaming about these moments," Tanyi said. "It's like, 'Wow, it's here.' I prepared for this moment, so it's not like a shock. But while I'm in the moment, I'm going to take advantage of it."