Jared Bernhardt and Logan Wisnauskas are this year's Maryland lacrosse dynamic duo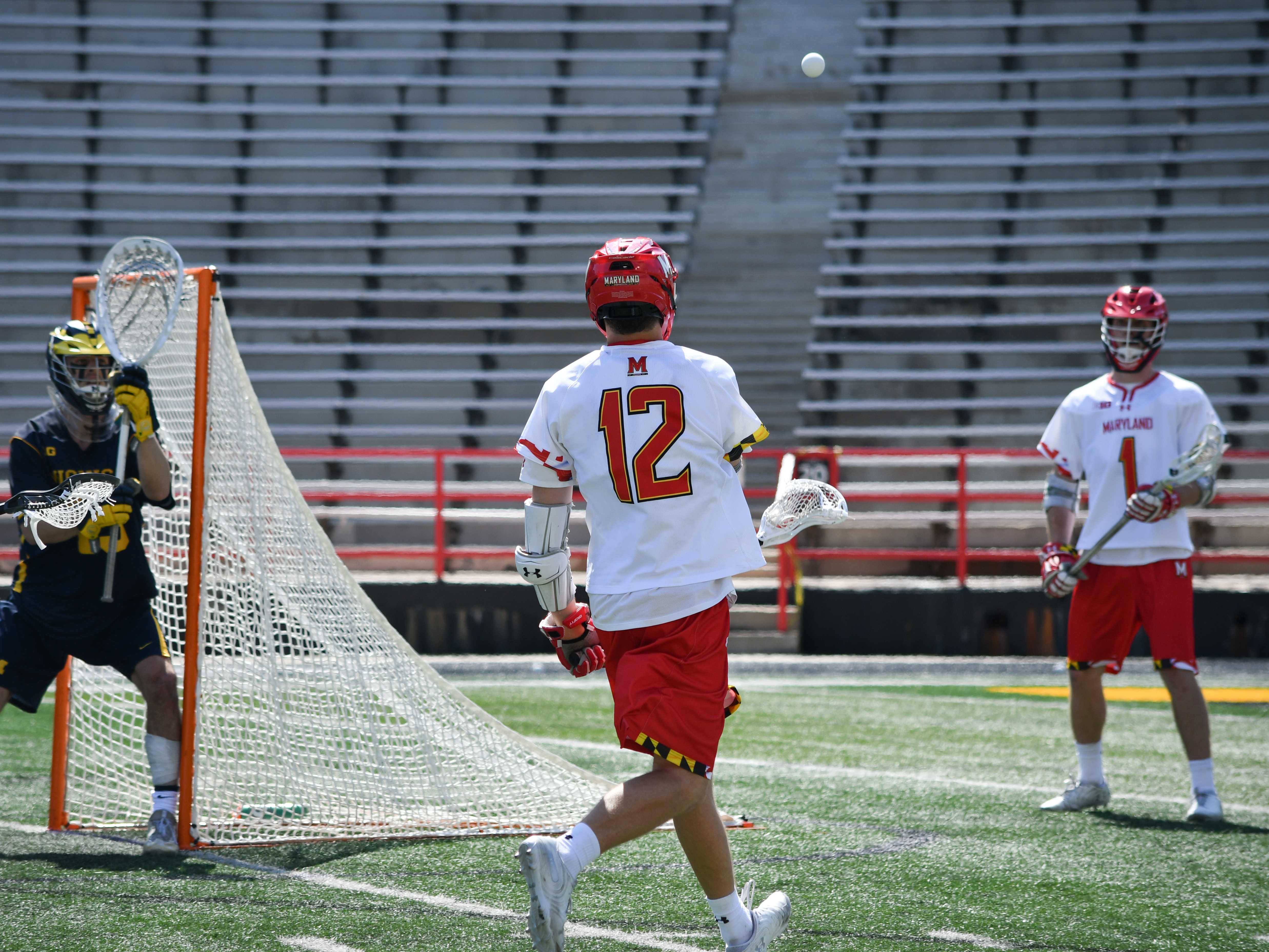 Midfielder Logan Wisnauskas (center) and attackman Jared Bernhardt (right) complete a pass during Maryland's 16-12 win over Michigan at Maryland Stadium on April 6, 2019. (Alex Chen/The Diamondback)
In the fourth quarter of Maryland men's lacrosse's 16-12 win over Michigan on Saturday, attackman Jared Bernhardt lurked behind the net while his teammates passed the ball around and looked for an opening.
As Bernhardt crept forward and cut around the net, attackman Logan Wisnauskas whipped him a no-look pass from 12 yards out. Within seconds of maneuvering to the goalkeeper's right, Bernhardt caught it and flicked in the shot.
After the Terps lost much of the production from last year's offense, the Bernhardt and Wisnauskas duo has shouldered the responsibility of playmaking for an attack that averages over 13 goals per game, with each of them benefiting from the other's skill set.
"They both are very smart players. They have a high IQ, they have great anticipation and instincts," coach John Tillman said. "So a lot of times, those two guys are almost a step ahead of the play."
Last season, then-senior midfielder Connor Kelly was the undisputed catalyst of Maryland's attack, posting 36 assists to go with his 46 goals. Fellow senior Tim Rotanz had the second-highest assist total with 21.
With those departures, Bernhardt and Wisnauskas have become more inclined to distribute the ball on the attack after mainly being scorers last year.
"Coach says it all the time — 'Connor Kelly's not walking through the door, neither is Tim Rotanz,'" Wisnauskas said. "Those guys were our leaders last year."
[Read more: Maryland men's lacrosse retains No. 3 spot in latest Inside Lacrosse poll]
Bernhardt and Wisnauskas have accounted for 46 of Maryland's 95 assists through 11 games.
Bernhardt has 22 assists, constantly forcing defenders to decide between defending his ability to get to the net or take away the passing lanes he can exploit.
Wisnauskas, meanwhile, possesses a lethal shot, but has shown an increased ability this season to find open teammates with skip passes and extra passes this season, leading to 24 assists — after he totaled 15 all of last year.
"You look at those two guys, and I'd argue they're top-two as far as lacrosse IQ on our team," midfielder Will Snider said. "Where to be with the ball, without the ball, I think that is something that kind of sets them apart from everyone else."
Tillman said both players have dedicated themselves to staying after practice to work on all areas of their games, and watching film to study further progressions they need to make. That extra work is a part of both players' "desire to be great, not just good," Tillman said, and their increased passing skills are a part of that quest.
That drive has also enabled them to develop a chemistry that has been on display during games this season. Against Michigan, Bernhardt and Wisnauskas each assisted two of each other's goals.
Bernhardt and Wisnauskas combining on scores was rare last season, with Kelly and Rotanz usually doling out the assists.
The duo only combined for four scores in 18 games as a tandem last year. But through 11 games this season, Wisnauskas has nine scores off Bernhardt assists, and Bernhardt has seven goals off Wisnauskas'.
[Read more: Will Snider overcame a slow start to offer Maryland lacrosse a midfield scoring threat]
When Maryland plays against Rutgers on Sunday night at HighPoint.com Stadium, Bernhardt and Wisnauskas will be looking to make plays for anybody who's available to take open shots. Their playmaking will be especially vital against Scarlet Knights goalkeeper Max Edelmann, who leads the nation with 15.9 saves per game.
Snider, a senior who's played alongside great Maryland two-man combos like Matt Rambo and Colin Heacock or Kelly and Rotanz, marvels at the Terps' attacking duo that's emerged this season.
"They're special," Snider said. "It's really fun watching them play. And it's cool being a part of what they're doing, and I'm really blessed to be a player in the system with them."
---