Rifle and Pistol Club seeks to teach responsible gun ownership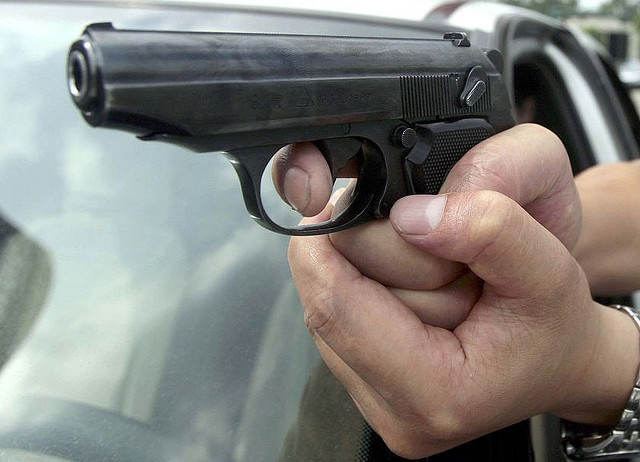 Eyes straight ahead, a shooter lines up his gun with a red target, finger curled around the trigger.
"Breathe. Breathe deep," says Kenneth Lan, a junior history major.
As his heart rate falls at a consistent pace and his body aligns with the small rifle before him, he releases half his breath and pulls the trigger; the bullet lodges itself in the center of the target. This shot is what drives members of the Rifle and Pistol Club to make the 35- mile trek from the campus to the Izaak Walton shooting range in Poolesville every Saturday morning — a bullseye and a release.
"Some people like golf. We like guns," said Lan, the club's president. "America doesn't have a problem with a gun culture; America has a problem with a violence culture."
The group isn't the first rifle and pistol club on the campus — in the 1970s, the university had an ROTC rifle team and part of the Reckord Armory was a shooting range, Lan said. In the wake of a series of mass shootings and other recent incidents of gun-related violence, the new group's mission — teaching responsible gun ownership — has never been more important. The Rifle and Pistol Club, formed in March 2012, educates college students about developing marksmanship skills and provides a platform for about 80 students to enjoy rifle and pistol shooting while attending college.
"We're not shooting just to shoot. We're teaching safety, rules, and regulations." said club member Luzella Morton, a freshman economics and government and politics major.
Their meetings are about range trips; their tools of choice — privately owned rifles, pistols and ammunition bought out of pocket — are stored off the campus.
Down to the gel bullets and plastic casings at their booth at the First Look Fair, the group's operations are all about good etiquette: be it in shooting or gun safety. All members, particularly beginners, master proper form, breathing and aim and begin practicing with the gun rested on a wood box or a sandbag.
"We're really drilling gun safety in their heads. Good marksmanship is about repetition and stability to repeat the same motions," Lan said.
Following the December tragedy at Sandy Hook Elementary School, which left 26 people and the shooter dead, national attention has turned to the gun control debate, with people divided between enacting a slew of reforms and protecting their Second Amendment right to bear arms. For many students, it's difficult to conceive of guns as tools of sport rather than violence.
"As long as they keep firearms off-campus and keep this as far from the university as possible — even if they are students here — I don't see a problem with the club, even as much as I support gun control," Jacob Siegel, a sophomore computer engineering major.
However, new background checks and severely limiting magazines sizes won't hit the target, Lan said.
"The problem lies with current laws that aren't strictly enforced. The justice system is sending a message that gun crime won't be prosecuted," he said, adding that a 10-round magazine limit would make defense in the low light more difficult and that banning assault weapons based on appearance is faulty because many "less dangerous-looking weapons" are very harmful.
For most members, rotating through weekly trips and visiting gun shows with a community is a liberating experience.
"Shooting is a slow-paced sport. Each time you get another target to aim for, a new challenge to get better," said Annie Bolek, a senior animal sciences major.
Although male students primarily compose the group, female students are often better shooters because they are more careful and precise in handling guns, as compared to males, who use guns like an Xbox controller, Lan said.
Most members have grown up with guns. For example, Morton's father, grandfather and great-grandfather have all served in the military.
"I was terrified, scared to death when I first picked up a gun in 11th grade, but it soon became a pastime for my dad and I," she said. "Gun appreciation as a sport really stems from your family."
Lan's appreciation for guns stemmed from his love for finely made mechanical devices and precision instruments. He hopes to compete in a national match in Ohio which began in 1903 with the support of Teddy Roosevelt after the Spanish-American War to improve American troops' shooting skills.
Lan's favorite gun, he said, is the M1 Garand, used in World War II.
"They just don't make guns like that anymore," he said.
---